With ever-increasing threats around us prioritizing safety measures in our daily lives has become critical in recent times. Having a robust surveillance system installed on any property- residential or commercial – should be paramount to everyone concerned about their security concerns nowadays. The Dual Lens 180° Solar IP Camera provides state-of-the-art technology that caters to all aspects of modern-day surveillance needs flawlessly. In this piece, we explore the various features and advantages of this outstanding camera system thoroughly.
Dual Lens with 180° Super Wide Viewing
The Dual Lens 180° Solar IP Camera comes with a dual-lens structure that seamlessly splices left-right lens images into a 180° surveillance video without any blind corners. This camera is designed to monitor the entire large scene, making it an excellent alternative to two bullet cameras. With its wide-angle view, you can cover a larger area and capture more details, providing you with complete surveillance coverage.
4K Super HD Quality
The full-color high-sensitivity sensor of the Dual Lens 180° Solar IP Camera offers crystal-clear images and videos. It allows you to zoom in for astonishing details, making it easier to identify any suspicious activity. The binocular splicing screen ensures no deformation and a distortion less seamless connection, providing you with clear and uninterrupted footage.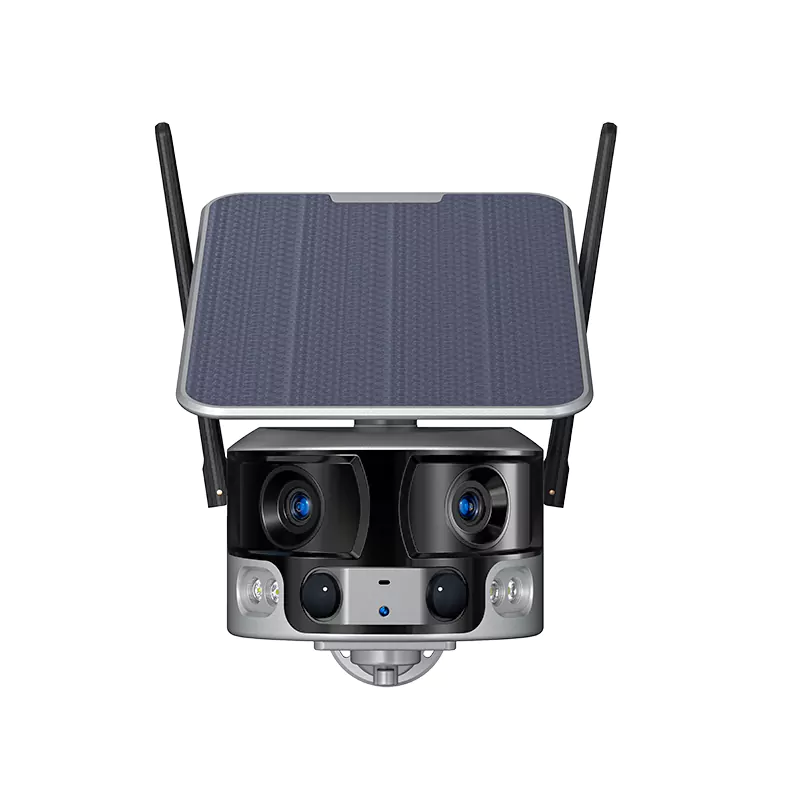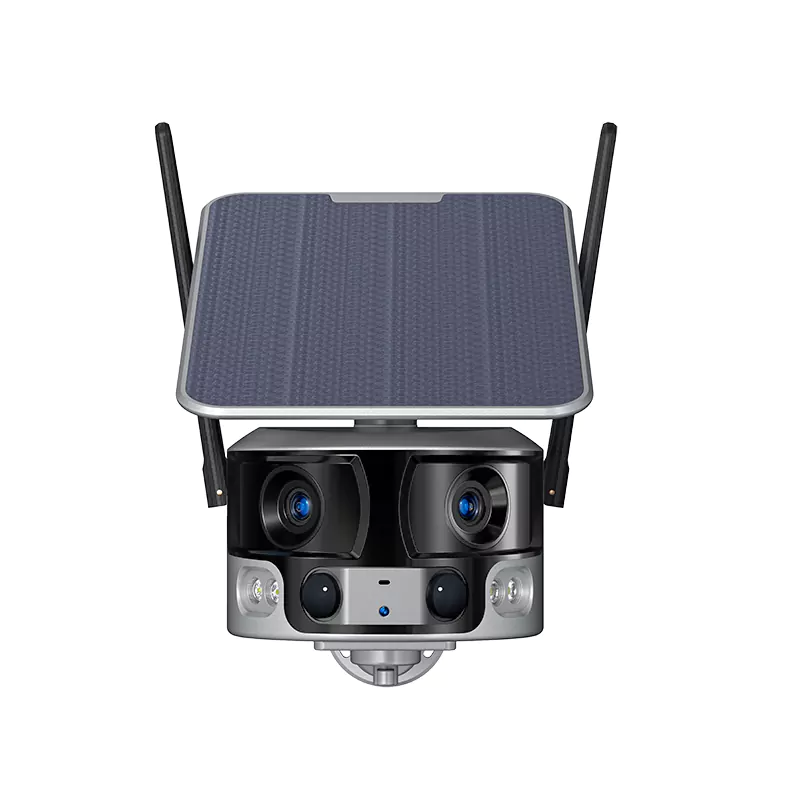 Color Night Vision/Super Night Vision
With 4 white light+8 infrared led ultra-low illumination, 40M infrared night vision, and 20M white light full-color vision, the Dual Lens 180 ° Solar IP Camera provides you with colorful and high-definition images even in low light conditions. This feature ensures that you can monitor your property 24/7 and never miss any critical footage.
Dual PIR Human Detection
The Dual Lens 180° Solar IP Camera comes with Dual PIR Human Detection technology that remains on guard 24/7, pushing APP alert notifications to your mobile device when people pass by or unusual situations occur. This feature enables you to respond promptly to any potential security threats and take appropriate action.
WIFI 4G Connection
The Dual Lens 180° Solar IP Camera offers two versions – WIFI and 4G. With the latest WIFI-6 technology and wireless connection, you can enjoy remote viewing without any wiring hassles. The Niview App makes it easy to access the device, and you can configure it within minutes. The 4G version enables you to enjoy 4G monitoring without network and electricity. It comes with a built-in Qualcomm global 4G module, allowing you to access the network even in areas without WIFI coverage.
Solar powered Wire-free Install Anywhere
The Dual Lens 180° Solar IP Camera is solar-powered, making it easy to install anywhere without worrying about wiring or electricity. With an external 6W unlimited charging solar panel and built-in 18000mAh rechargeable batteries, it offers long-lasting and sustainable power. Even on rainy days, the mono-crystalline silicon solar panel can supplement weak power, ensuring uninterrupted surveillance coverage.
IP66 Waterproof/Dustproof No fear of bad weather outdoors
The Dual Lens 180° Solar IP Camera is IP66 industrial-grade waterproof and dustproof, making it perfect for outdoor use in any weather conditions. The camera can withstand long-term use during rainy days, and the built-in 18650 batteries ensure that it continues to function even in low temperatures.
If you are interested in buying, contact us.