Introduction
Security in our modernized world has become a necessity, and surveillance systems are a significant part of ensuring safety and peace of mind. Out of the million-plus security cameras available on the market today, one incredibly potent tool for increased security measures is the PTZ camera. Our 4.5-inch PTZ Camera represents innovation and efficiency. We will explain the significance of this incredible piece of equipment as well as how it is used in numerous applications as we guide you through it. Also, this comprehensive guide will help shed light on the key parameters, features, and capabilities that make our 4.5-inch PTZ Camera an indispensable asset in security and surveillance.
Section 1: Understanding PTZ Camera
The PTZ, which stands for Pan-Tilt-Zoom camera, is a surveillance device that is highly versatile in many applications. Unlike fixed cameras that are actually static images and can only capture what they have their vision on, PTZ cameras are fully controllable devices that can pan (horizontally move), tilt (vertically move up and down), and zoom at will. The motorized mechanisms fitted on these cameras allow them to be remotely controlled for orientation and focus control purposes. With the ability to adjust position and zoom level remotely, one can monitor either vast areas or specific critical points using only one device. This feature allows monitoring of moving objects, capturing from different angles, and surveying large spaces without necessarily installing multiple fixed cameras.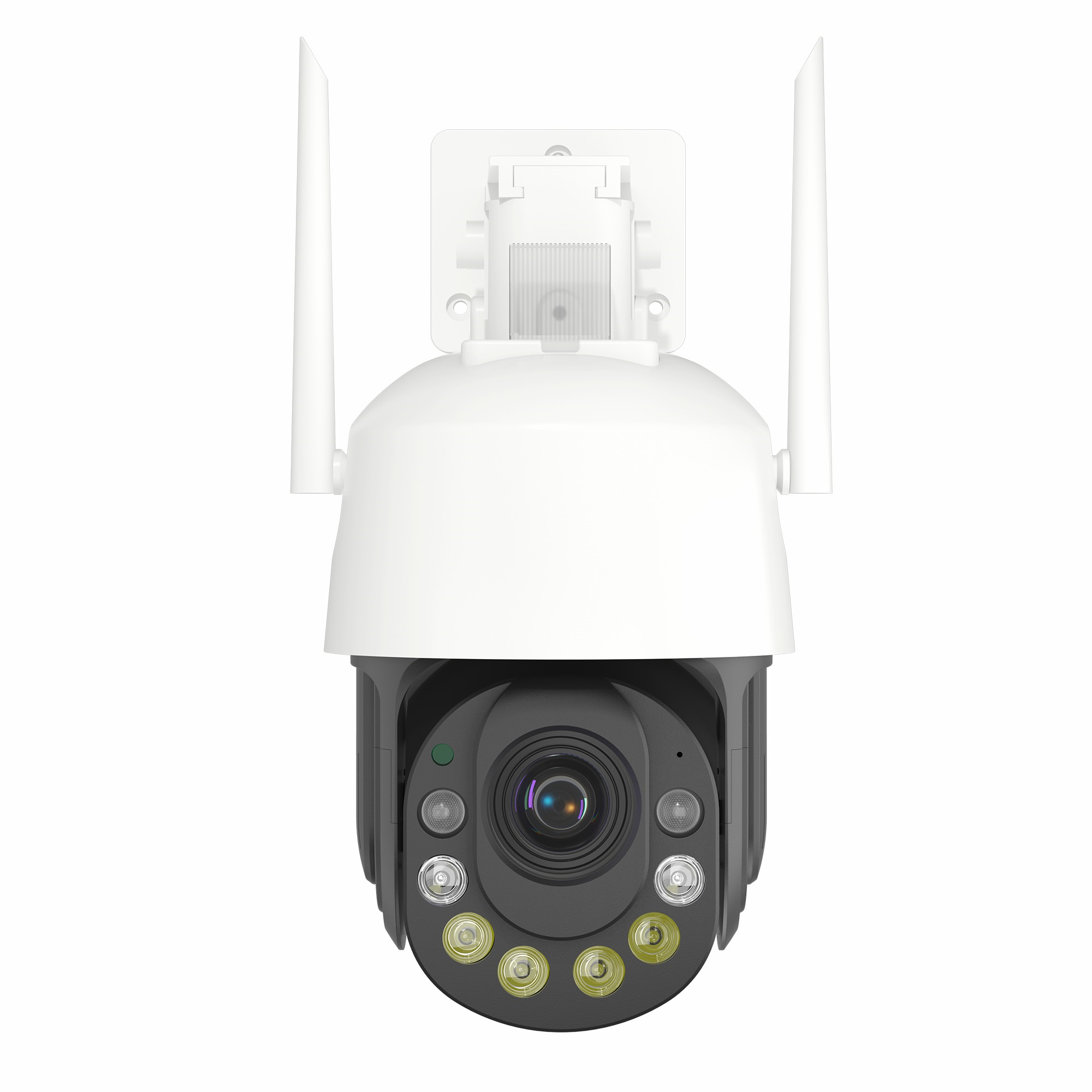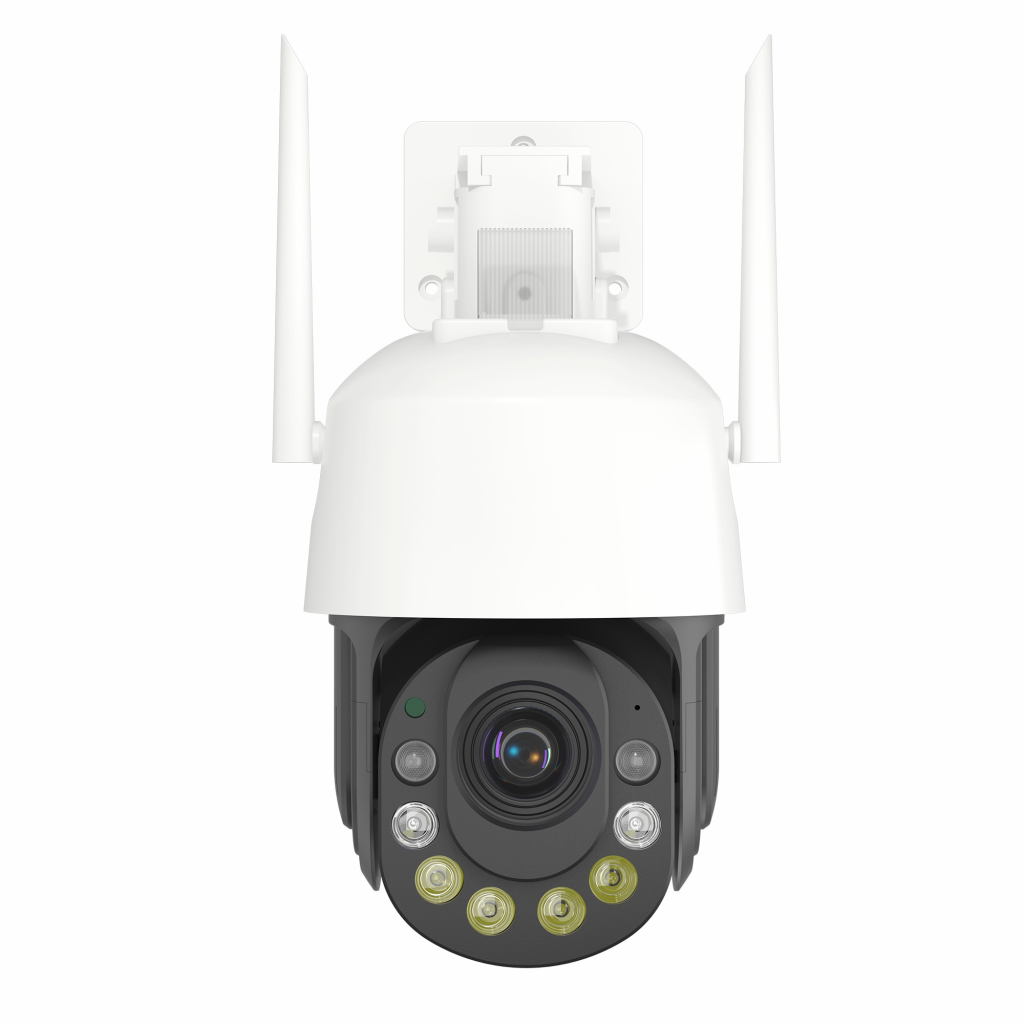 Section 2: Key Parameters of our 4.5-inch PTZ Camera
Construction and Build
The robustness of the 4.5-inch PTZ Camera lies in its construction as one of the key parameters adding security to the camera. The first feature that makes it is the metal front cover of this camera. Secondly, it has added a top cover made up of ABS material. This makes it a light design, along with an alluring slim look. Hence, these mixtures make a product tough but also compact and easy to handle.
Video Resolution
There is simply no room for compromise with the 4.5-inch PTZ Camera when it comes to clear visibility of images. Delivering an impressive video resolution of 2880 x 1620 makes a substantial total of 5.0 megapixels – every single frame perfectly demonstrates its capabilities. Its characteristics are elevated by the XM550AI+SC5335P, which gives the camera an advantage for its 18X optical zoom (covering the range of 4.7-94MM) and support for a 36X display.
Zoom Features
The full potential of the 4.5-inch PTZ Camera comes with intricate details of PTZ rotation. The horizontal rotation extends from 0-300°, and the vertical rotation is from 0-90°, offering unmatchable flexibility in monitoring. With variable rotating speed extending to a maximum of 20° per second, ensuring that no moment goes without a monitor.
However, what sets this camera apart is its night vision nature. It has high-power dual laser night vision lights, enabling it to offer both full-color night vision and infrared night vision up to an incredible 120 meters. Day and time are not limitations for the powerful 4.5-inch PTZ Camera, which records every move.
Power Supply
This technological marvel runs on a DC12V, 2A power supply. This ensures that the camera is always up and operating, giving excellent results in picture and video-taking clarity. A power supply unit also comes with this package for easy set-up and installation.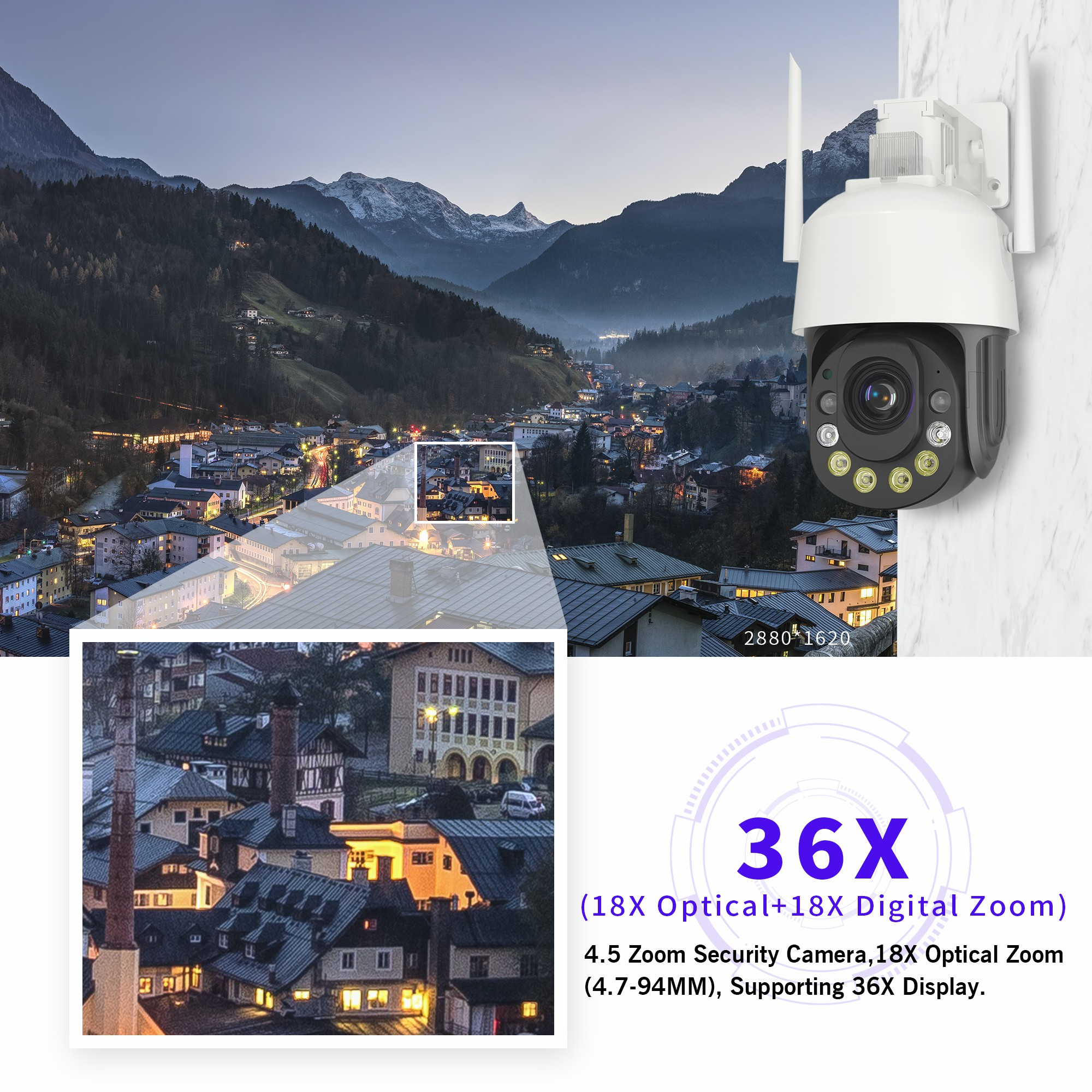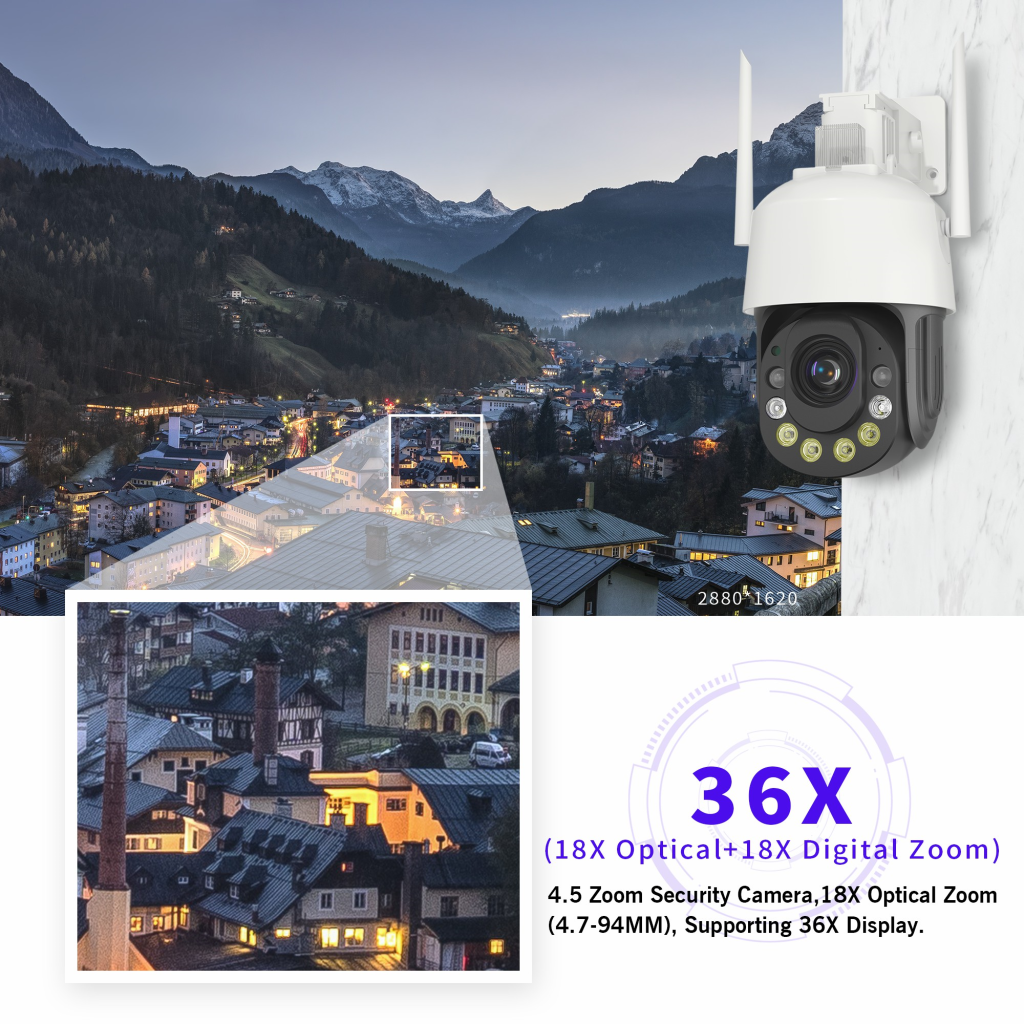 Section 3: Advanced Features
Human Detection & Alarm
The security of your property is prioritized. It has advanced human detection and enhanced alarm features for better security. It can brighten the area with its automatic light activation during low-light conditions to produce clear views. Alerts are generated for any action that occurs within the motion detector technology's detection range. Alarm light alerts are activated in the case of a potential threat, instantly attracting attention.
For real-time updates, it sends alarm push notifications to your device anytime you need them to avoid missing anything while away from home. With such kinds of innovations, our camera takes care of your property as a first line of defense, giving room for peace of mind and quick response to security issues.
Auto-tracking
This 4.5-inch PTZ Camera does not just passively surveillance. It actively sees. It features a proprietary human detection auto-tracking technology that enables the efficient tracking of subjects of interest. That way, you never lose sight of the things that matter to you most.
Night Vision Capabilities
With the sun down, surveillance continues by the camera. It offers excellent color night vision with 4PCS floodlights LED of up to 60 meters light distance away. For broader coverage, it provides an amazing IR night vision feature with 8PCS IR LED lights up to 120 meters from your eyes and lens. This ensures that there is continuous monitoring of your surroundings during daylight and in the dark hours.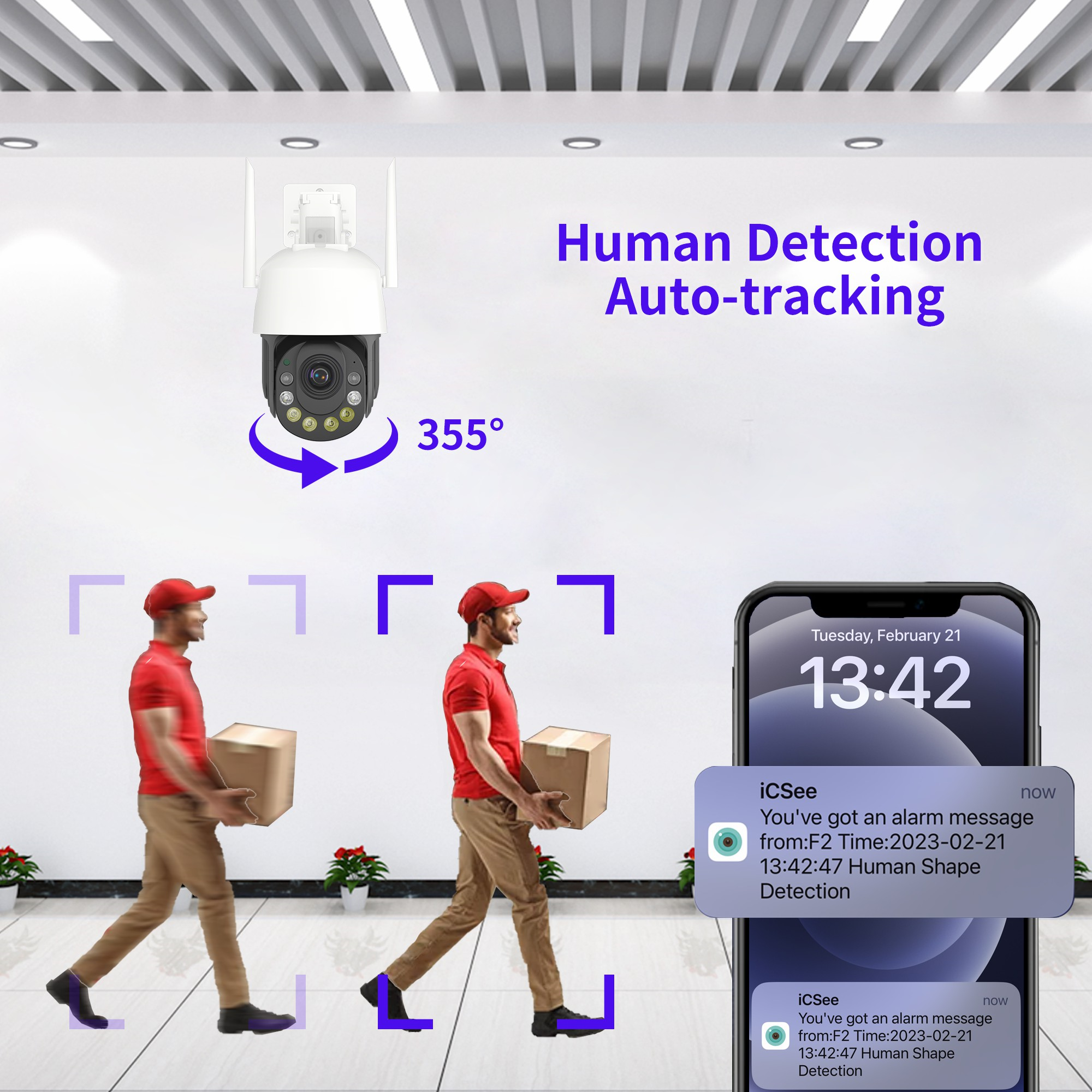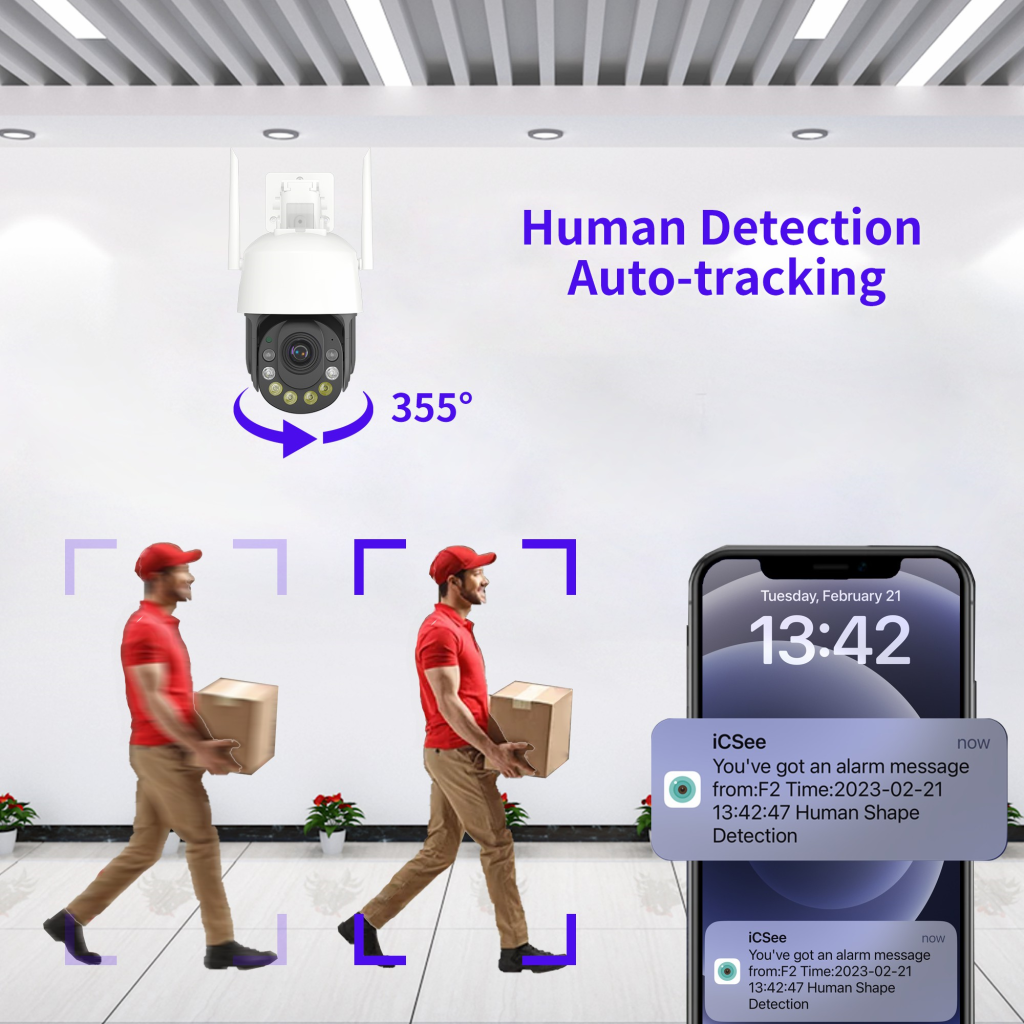 Smart Features
This PTZ Camera is not just another tool for monitoring; it's an intelligent system packed with smart features of the highest demand. One standout feature is its AI-powered person detection, which uses an AI platform that can distinguish between human individuals and other objects to minimize false alarms and enable you to be alerted only to real security concerns.
The dual lights of the camera have a double role. They provide full-color night vision, even in total darkness. Moreover, when the camera captures somebody at night, it automatically switches to color mode, and everything becomes stunningly clear. Be that as it may – day or night, you will get vivid views.
And that is not all. Its 15-meter voice pickup lets you see and hear whatever happens in your camera range. Also, it has a built-in subwoofer, so two-way dialogue is possible within the maximum distance of 40 meters. So besides keeping an eye on a person or object, you can now communicate with those people who are in the vicinity of this 4.5-inch PTZ Camera. All these innovative features make it full-featured equipment for surveillance.
Section 4: Installation Options and Versatility
Installation options, as well as the versatility of PTZ Cameras, make it clear that these cameras are engineered with adaptability in mind for reliable performance.
Indoor and Outdoor Installation: These cameras are meant for indoor as well as outdoor use. Their sturdy body structure along with the weatherproofing feature makes them fit to protect homes, businesses, and exterior locations while at the same time does not make them lose their functionality quotient.
Wireless Connectivity: The cameras are wireless enabled, enhancing the ease of placement. Being wireless enabled using WiFi, it is easy to install the cameras. The optional 4G makes coverage extend even to those remote areas with no traditional network infrastructure.
Working Temperature Range: These cameras work under a temperature range of -20°C to 60°C, so they fit the practical working conditions. Be it the polar regions or hot deserts, their surveillance is nothing but superior in all situations.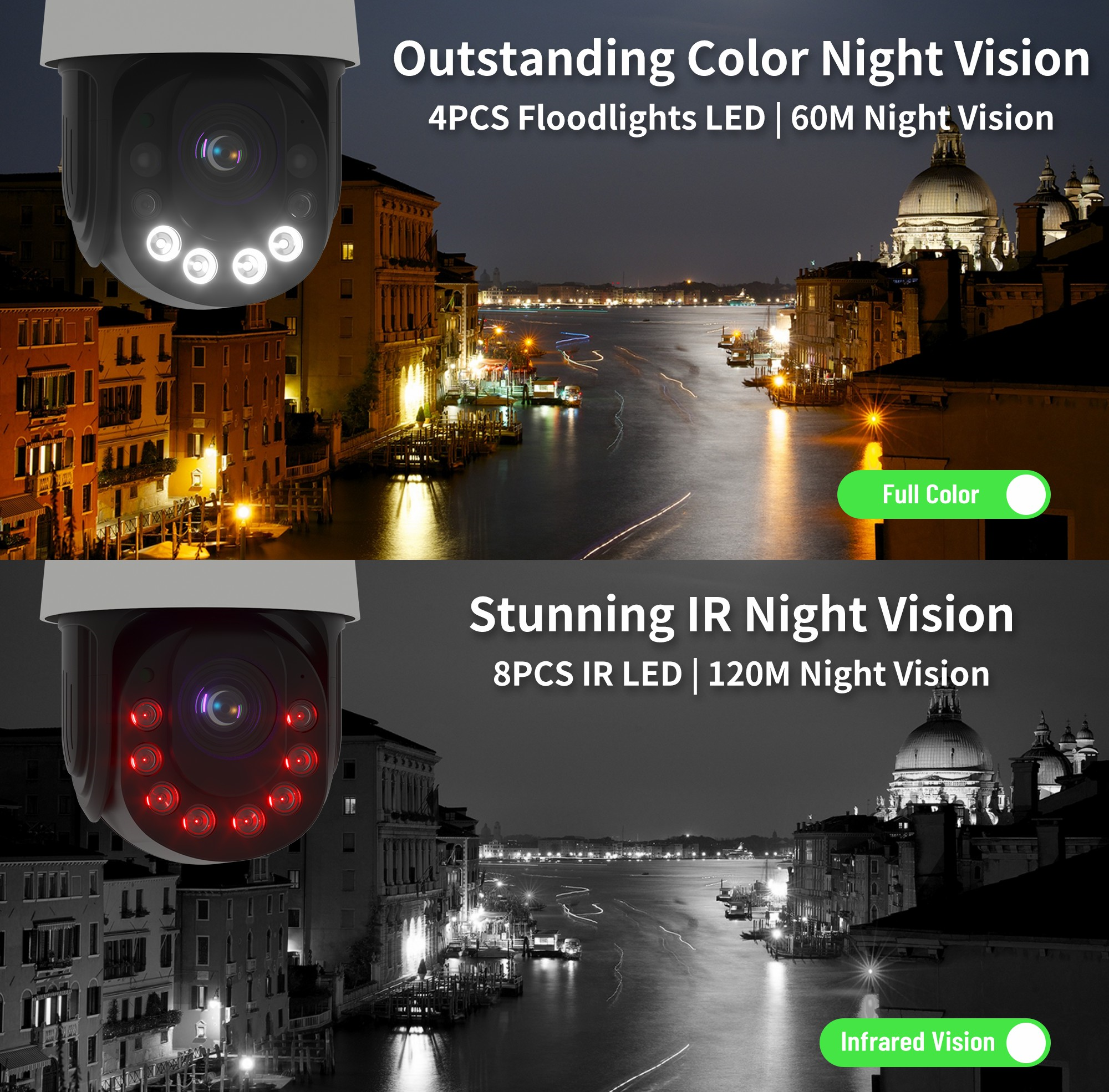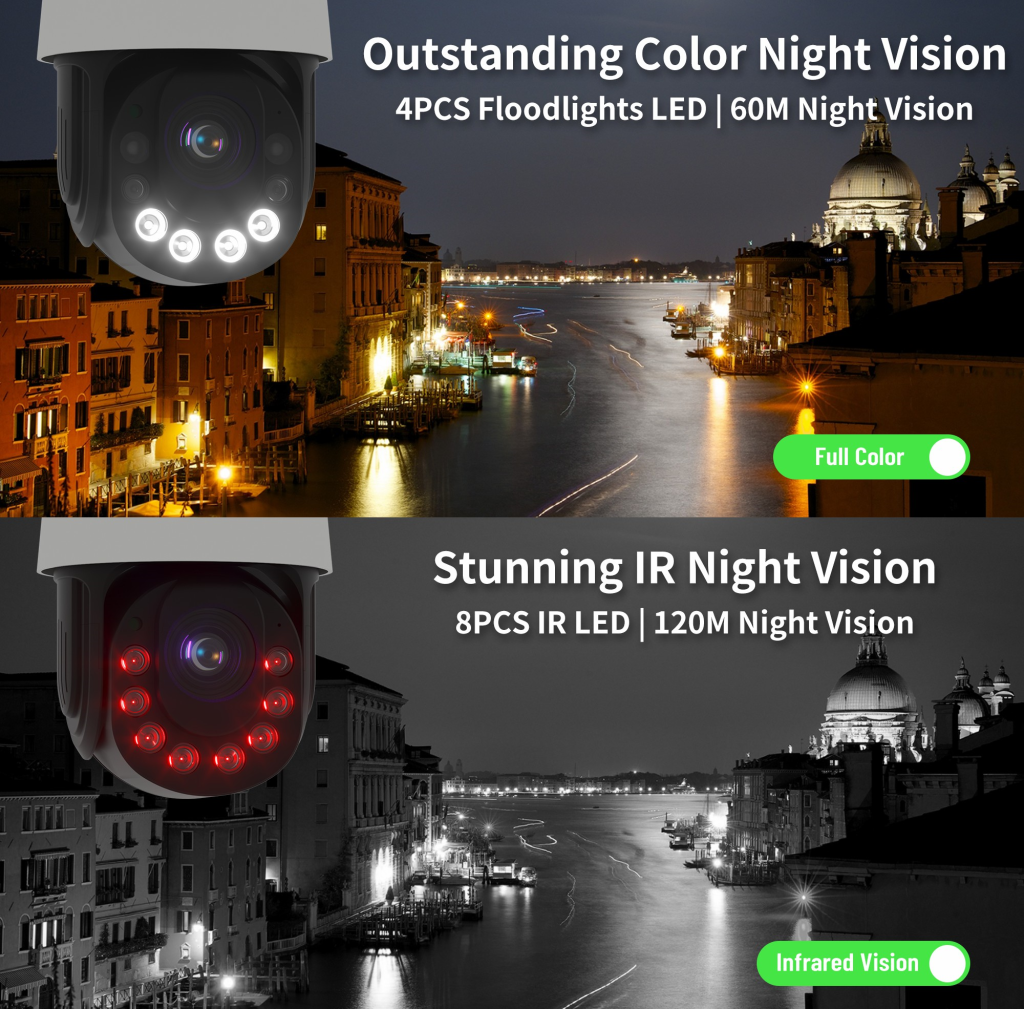 Section 5. The Advantages of PTZ Cameras
Besides the high-resolution abilities, these cameras have certain other impressive advantages in security and surveillance.
A. Improved Security and Surveillance:
PTZ cameras are integrated with advanced security features like AI humanoid detection, smart alarms, customizable alerts, and more. Their high-resolution video clarity ensures that the minutest of details will also be covered by them. Therefore, they become an inevitable addition for security and surveillance purposes.
B. All Environment Flexible:
Such cameras are perfect for all environments, whether residential or large-scale industrial settings. The fact that the camera can withstand the vagaries of an environment such as unpredictable weather and temperature changes. It ensures that it remains dependable wherever placed.
C. User-friendly:
PTZ cameras are meant to be user-friendly. With facilities like two-way audio, remote video playback, and wireless connectivity, it makes the experience very easy to use even for those who do not possess technical knowledge.
D. Compatibility and Integration:
The cameras are designed to integrate with existing security systems and they are compatible with popular NVR brands such as Hikvision, Dahua, and so on. This compatibility allows the camera to operate undisturbed reducing further the need for overhauling existing systems.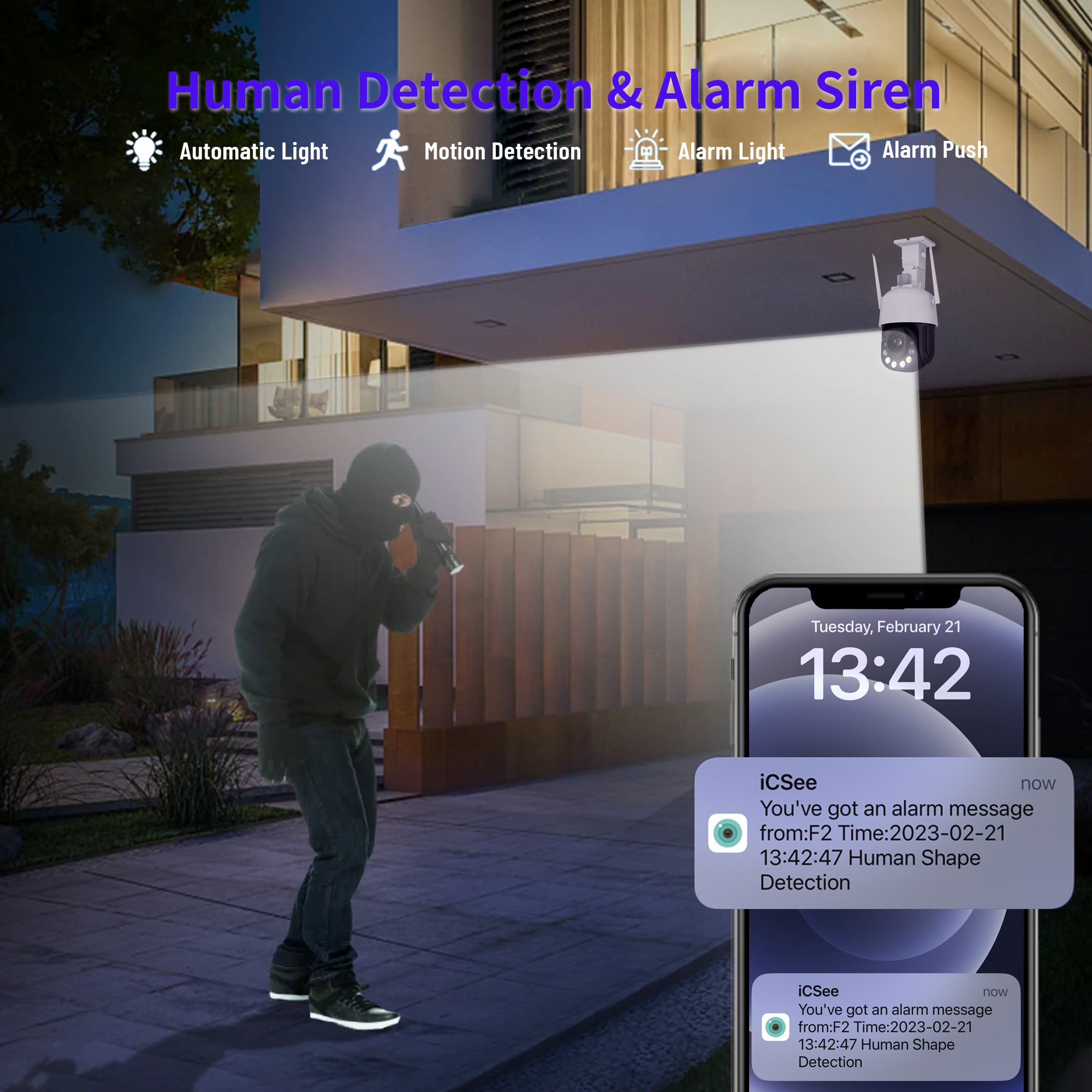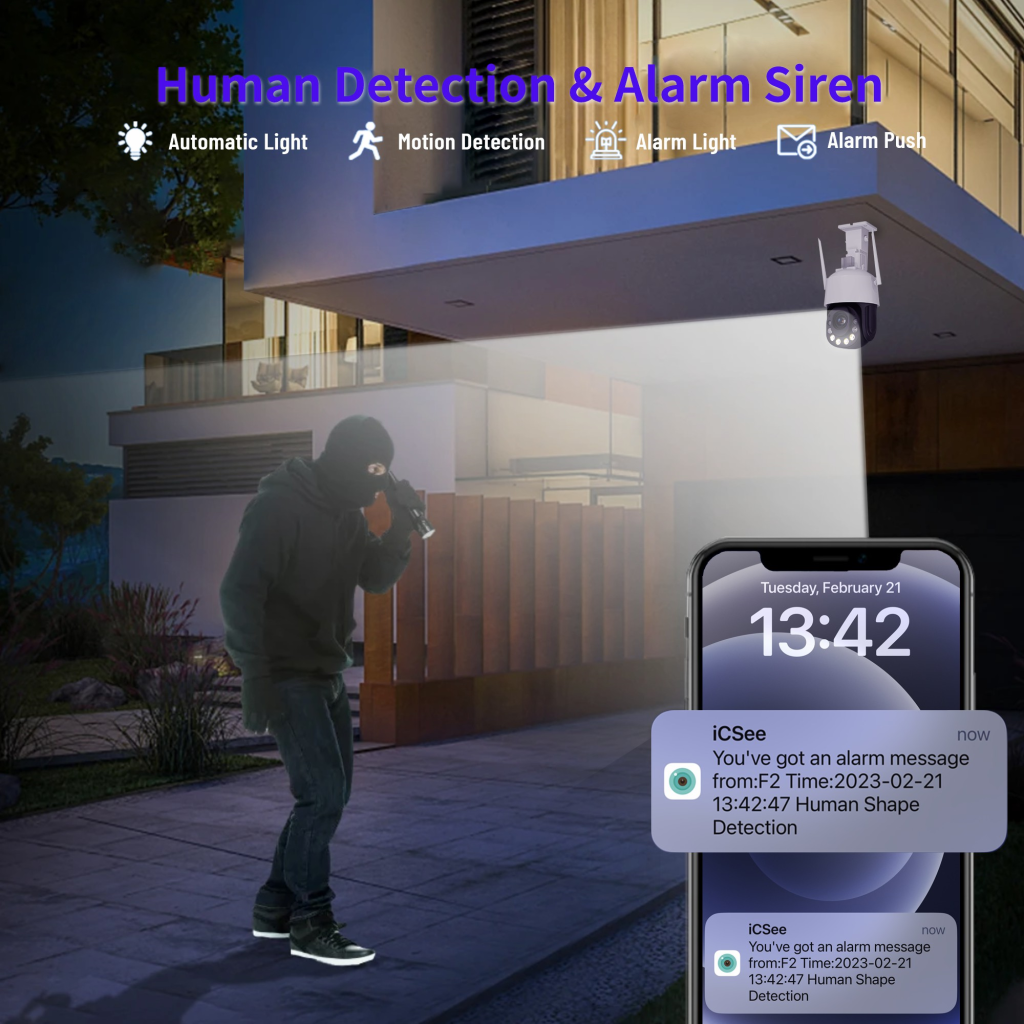 Section 6. Real World Applications
PTZ (Pan-Tilt-Zoom) cameras are applications in various fields of the world.
Security and Surveillance: PTZ cameras are used extensively in security systems for monitoring large areas. It covers the suspect activities, zooms at details, and plugs in the blind spots. They enhance surveillance efficiency as a whole.
Live Event Production: PTZ cameras are used to shoot dynamic shots in live broadcast scenarios, concerts, and sports events. These cameras perform real-time panning, tilting, and zooming that engages the audience with a visual treat.
Video Conferencing: PTZ cameras are the core of video conferencing setups, allowing smooth speaker tracking, participant tracking, or whiteboard tracking. This results in clear and interactive business meetings and remote collaboration environments.
Traffic Management: PTZ cameras assist in traffic management by monitoring intersections, highways, and tunnels. They can zoom in remotely to focus on congestion areas or accidents.
Wildlife Observation: Researchers and nature enthusiasts use these cameras to observe wildlife from a distance. The zooming ability in these cameras does not disturb the plants and animals.
Gaming and Streaming: Players and streamers can use PTZ cameras for capturing dynamic video angles. It makes their content visually more attractive.
Industrial Processes: In industries, they are used in industrial environments for remote inspection, monitoring, and control of machinery and processes.
Education: In lecture halls and classrooms, the PTZ cameras capture the entire class. Hence enhances the interactivity between the students and also ensures that all students can be seen.
Tourism and Hospitality: PTZ cameras are employed for depicting breathtaking views of tourist places, and also in hotels and resorts to represent the amenities offered.
Conclusion
In essence, the 4.5-inch PTZ Camera is simply a perfection of technology and innovation at its best. Its quality construction, high-resolution video, versatile control functionalities, smart features, and excellent night vision qualities help it deliver an all-inclusive solution when it comes to your security requirements. Applicability to many scenarios of surveillance, this camera caters to a variety of needs, from home security to commercial monitoring. It is one good companion for your peace of mind.