Security camera technology is constantly evolving, and innovation knows no bounds. One such giant leap has been taken in the form of a camera that combines together the two most powerful technologies – Bullet and PTZ. This article is a guide to this revolutionary combination by unwrapping plenty of its features and benefits.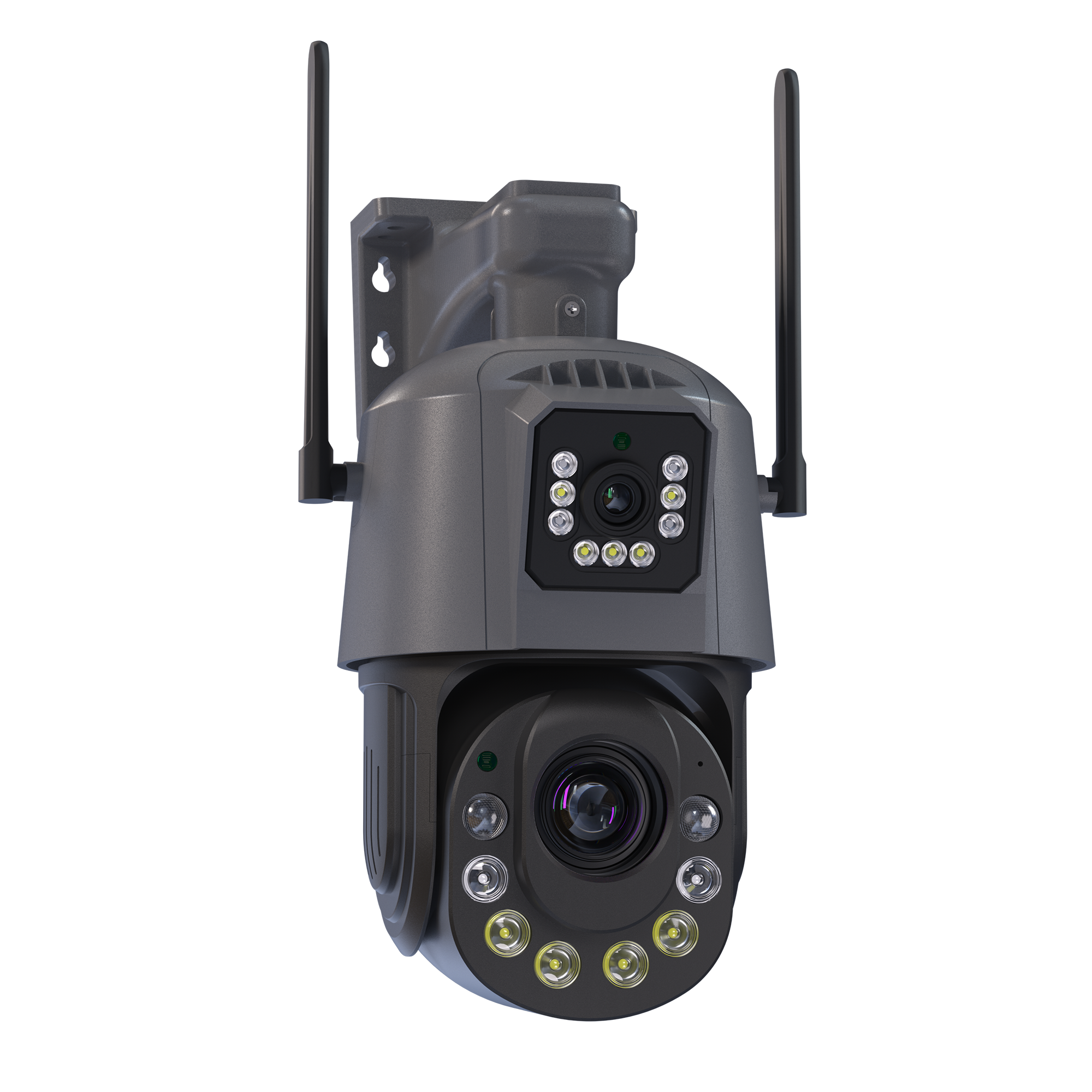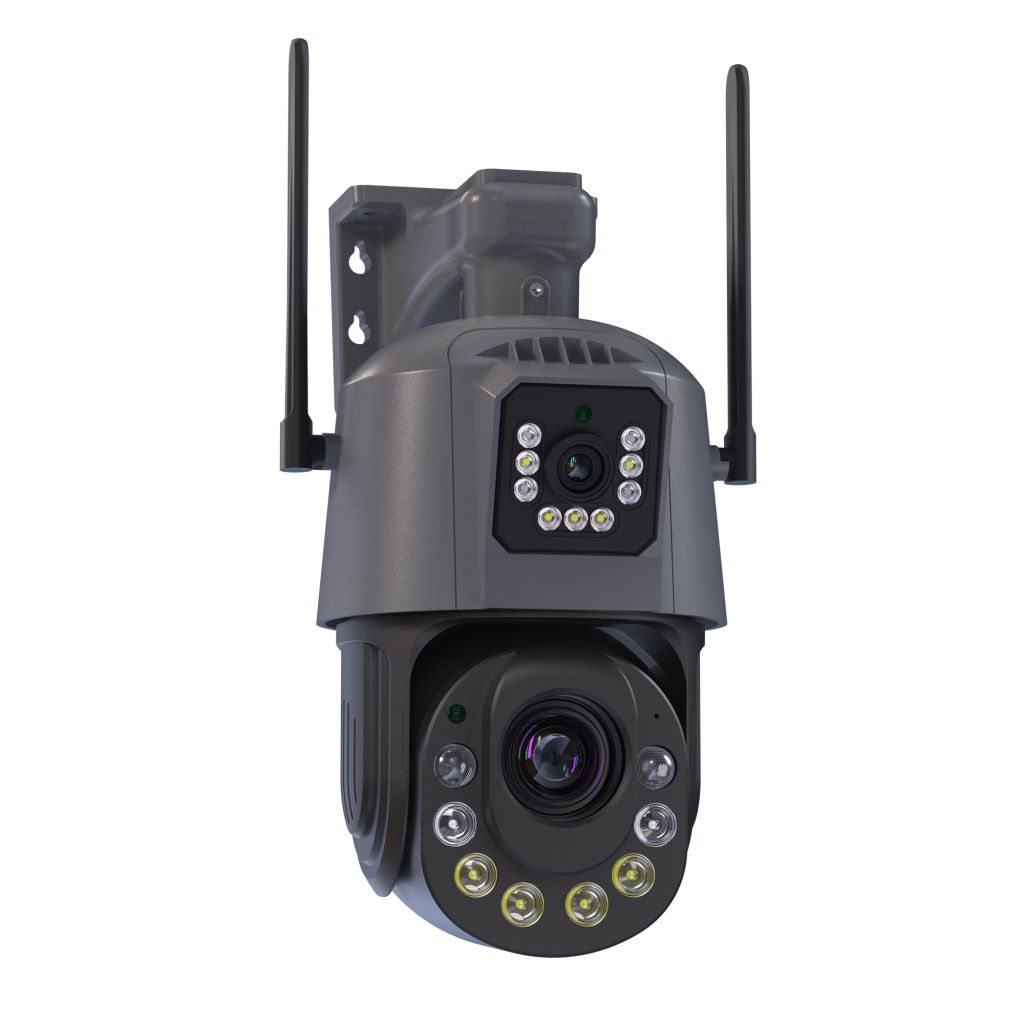 Introduction
Now, just imagine what you can gain by combining the best in a single security camera—a Bullet and PTZ camera. The device has been earning appreciation for its exceptional combination of the most vital features of both Bullet cameras and PTZ cameras. It's a security enthusiast's dream come true. In this guide, we will closely look into the Camera Constructional Design and Video Resolution along with distinctive functionalities and intelligence features rendered by this remarkable innovation. At the end of this, one will surely be able to know how this camera is a game-changer fusion for your significant security requirements.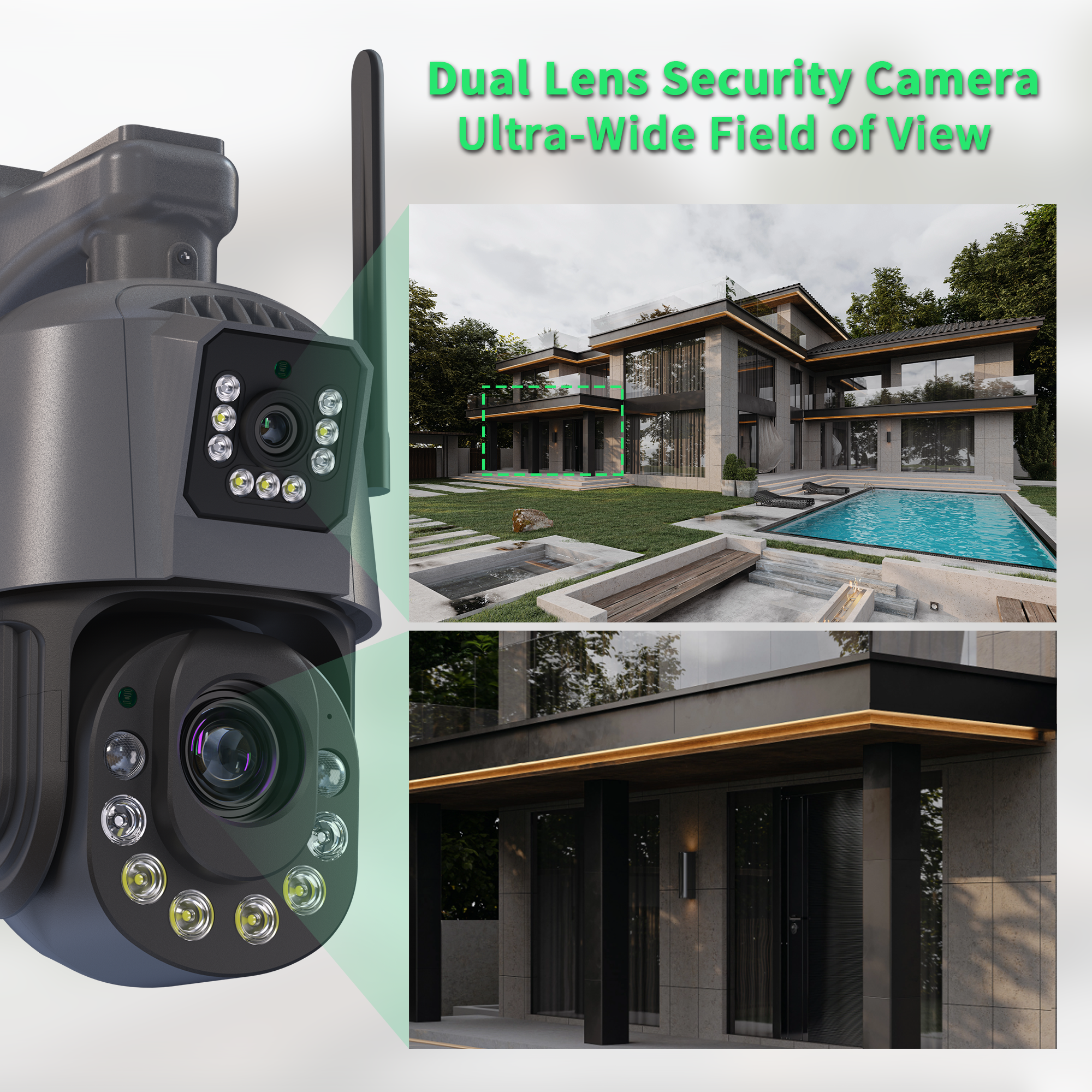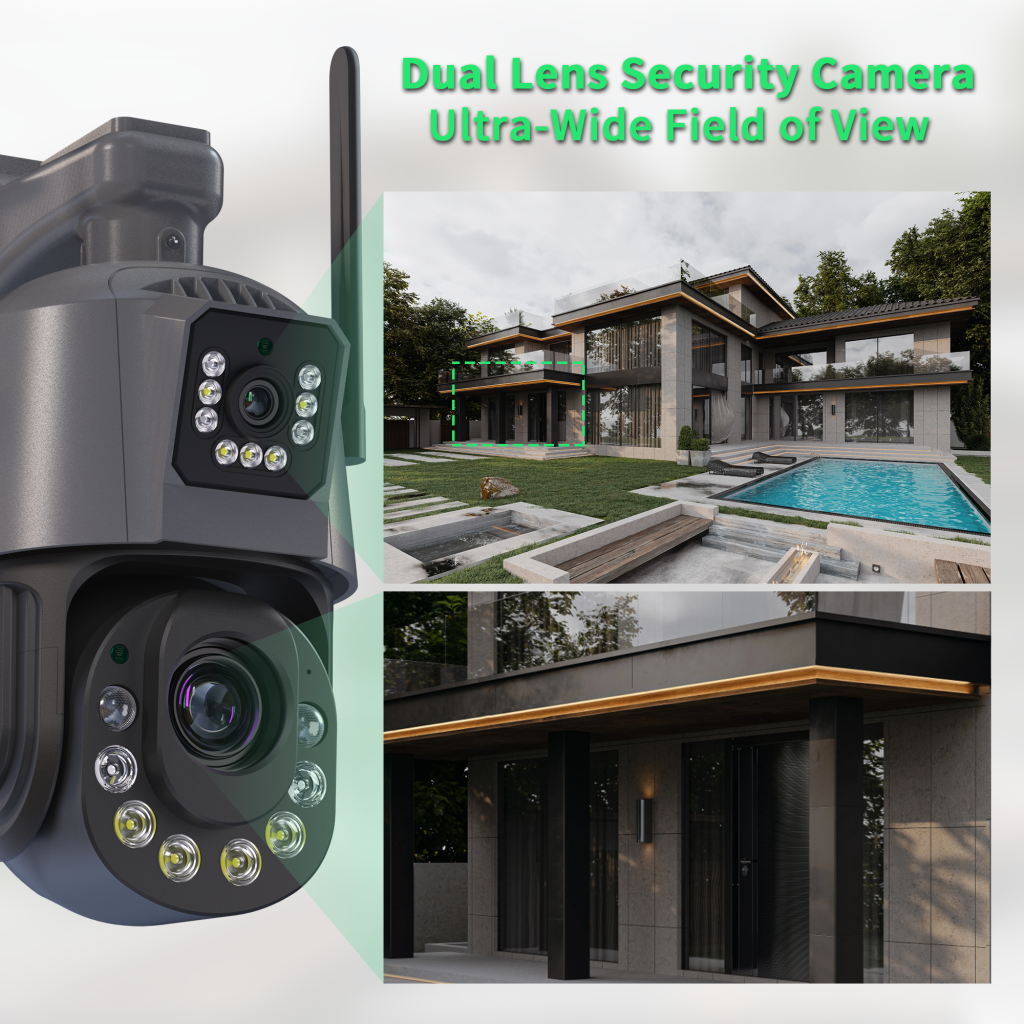 Understanding the Bullet and PTZ Camera
Let's unwrap the combination of Bullet and PTZ cameras to appreciate this camera. Visualize a rugged, highly durable Bullet camera combined with the versatility offered by a PTZ camera. The combination offers one comprehensive surveillance solution that is adaptable to any environment.
The construction of the camera plays a huge role in its functionality. With the metallic front cover guaranteeing sturdiness for both outdoor and indoor use, this rugged enclosure is built to withstand the harshest of environmental conditions. On the other hand, it assures versatility since the top cover is constructed from light ABS material. This camera can get the job done whether you need to pan throughout your property or have your property in sharp focus.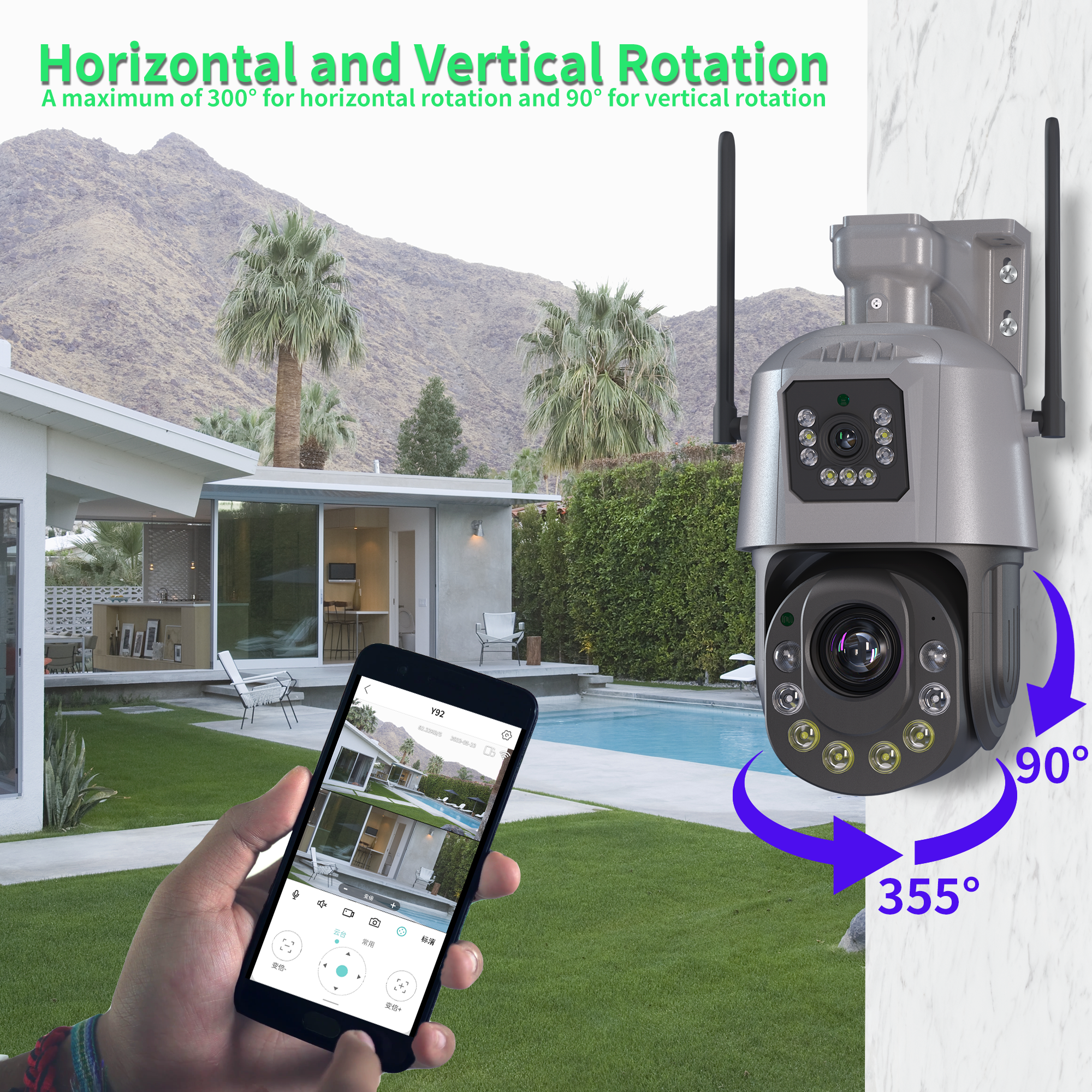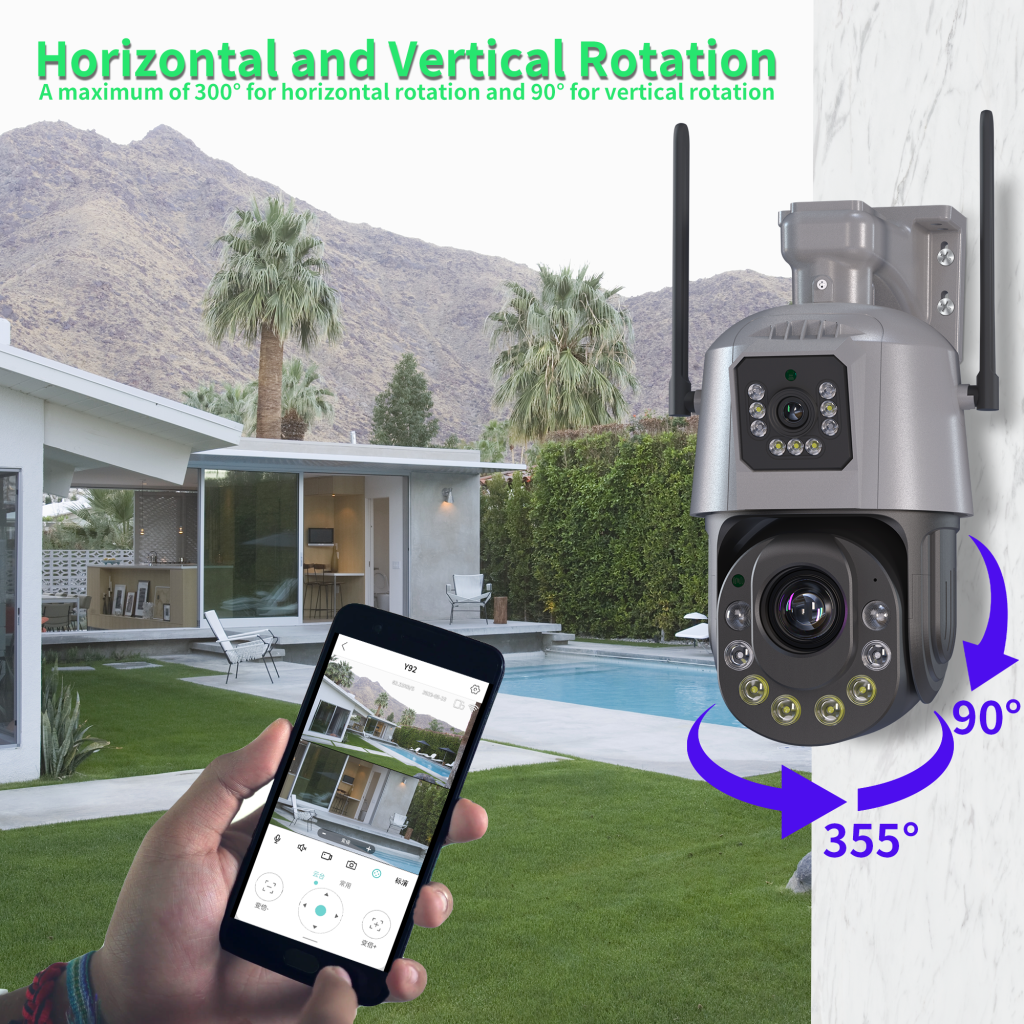 High-Quality Video Resolution
When it comes to security, clarity is a must quality. Our Bullet and PTZ camera excel in video resolution options from 6MP through to 3MP+3MP. This means you won't miss anything important – be that a license plate number or an individual's face.
High-resolution video proves vital when protecting your property. It allows the use of the zoom-in option without losing important details, such as vehicle registration numbers. You can feel more at ease knowing that the surveillance footage is of higher quality because this camera performs efficiently.
Bullet Camera Features
The Bullet camera component of this hybrid is no slacker as well. This camera boasts a suite of features. At the heart of its specifications is its 3MP resolution, which provides exceptional clarity and detail necessary for effective surveillance. Its images and video have 2048 x 1536 pixels, ensuring that each tiny detail wouldn't go unnoticed or captured.
This camera also has a 3.6mm F1.4 lens. The high field of view offered by the 3.6mm focal length means that it has better coverage and can cover more zones with just one unit installed. An F1.4 aperture is also ideal for low-light conditions because the camera will be able to deliver clear and sharp images in even really tough light circumstances, such as at night or in areas without good lighting conditions.
It ensures that not only is recorded footage detailed and sharp but also reliable for usage within a vast range of light conditions. Be it any residential monitoring business sites or other public areas, this camera type offers clear and precise viewing abilities in abundance for peace of mind as well as invaluable security data.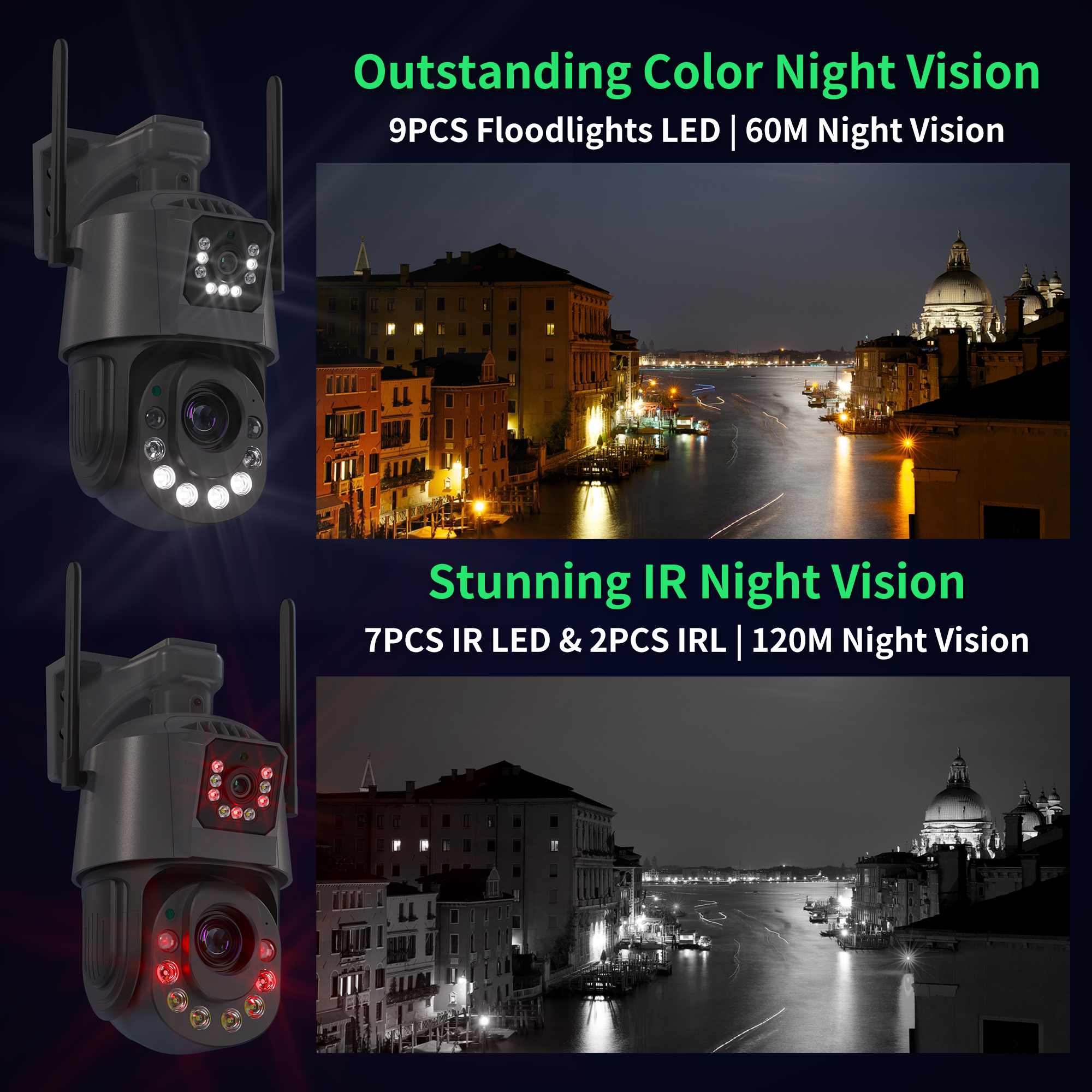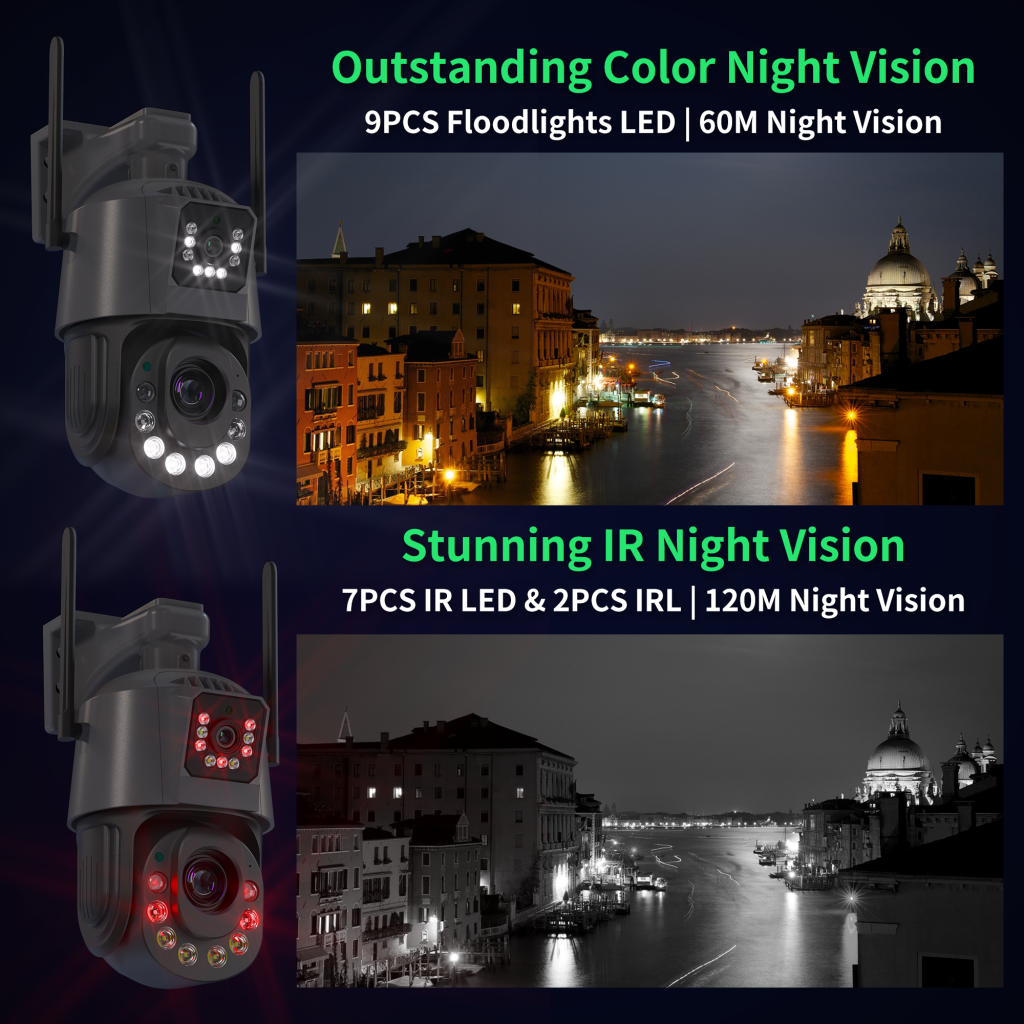 Features of PTZ Camera
Now, let's turn our attention to the PTZ camera component. Its remarkable characteristics for flexible and detailed surveillance set it apart from others. At the heart of its specifications is a decent 3MP resolution, allowing taking images and videos with an amazing quality of up to 2048 x 1536 pixels. This very high figure allows monitoring even some of the most minor fine details, hence perfect when the clarity of the image is required most.
It also boasts an 18X optical zoom with a lens range of 4.7-94mm. This means that the camera can close views on distant objects without losing image quality and gives it amazing flexibility for surveillance purposes.
In terms of movement, its PTZ camera has a wide rotation range. It can pan horizontally through almost any angle, most times over 360 degrees, and tilt vertically in order to shoot scenes from different angles or perspectives. Its rotation speed is also adjustable in certain models, which allows fast repositioning or smooth tracking movements when and where necessary.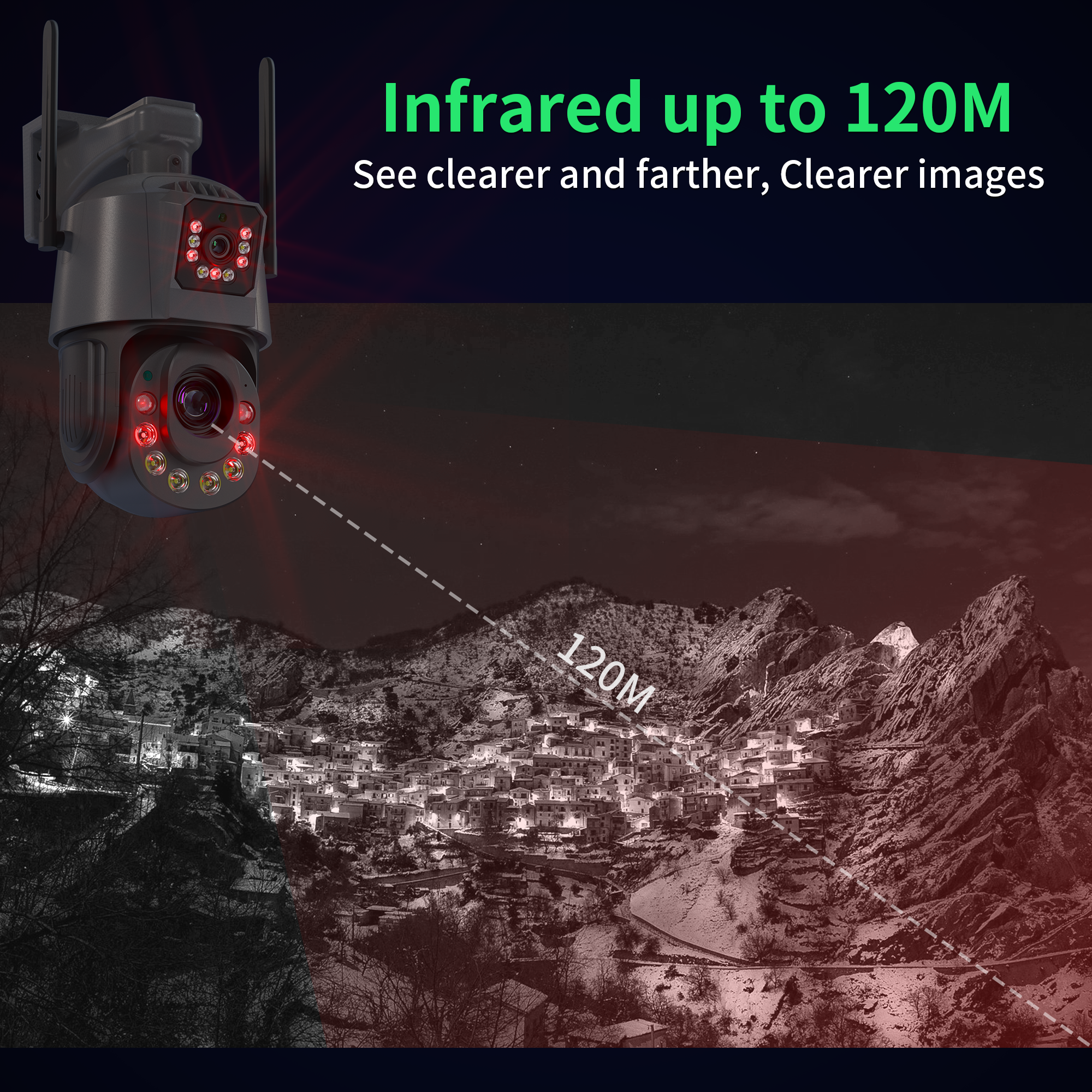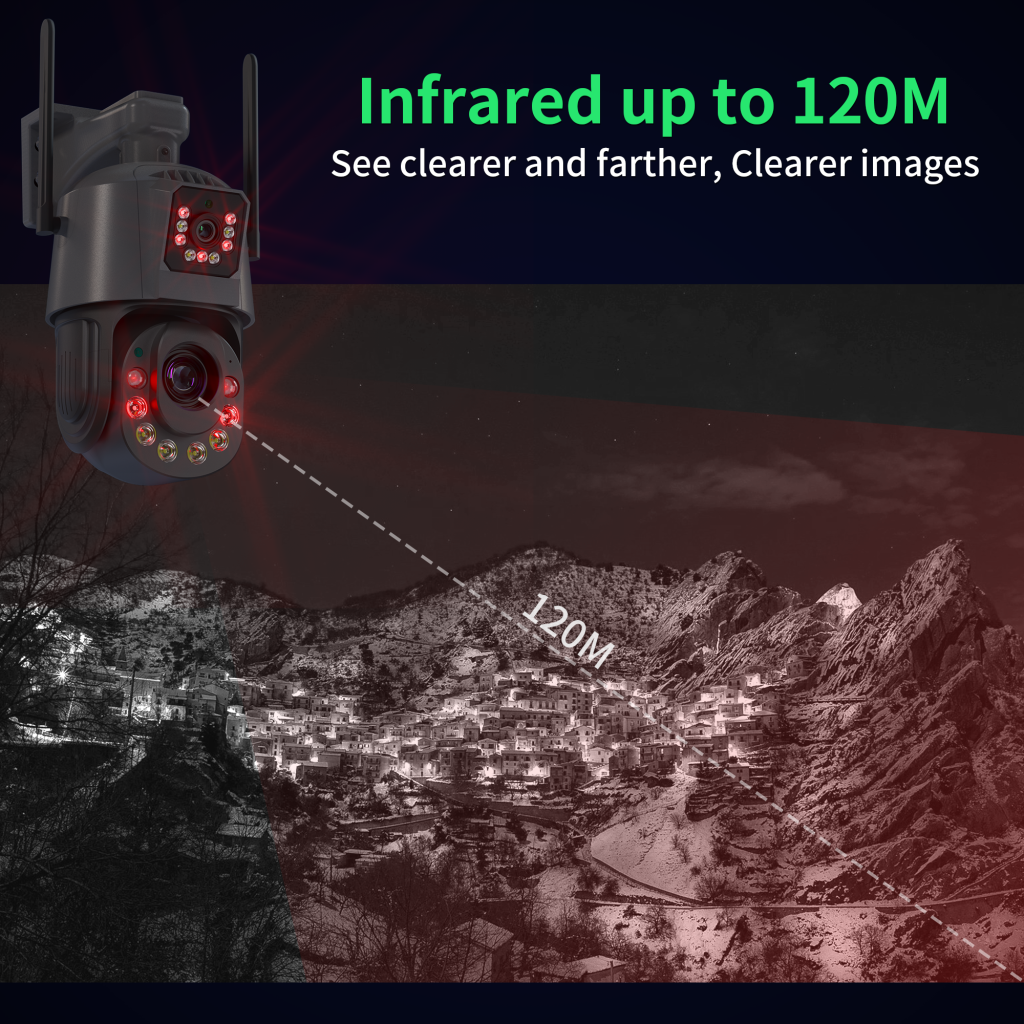 Intelligent Features
The hybrid Bullet and PTZ camera doesn't just stop at video quality and capturing frames but goes beyond; it is bundled with a package of intelligent features that make it more than merely reactive towards maintaining your security cover. Here's what differentiates this innovative device:
Preset Points Inspection and Two-Point Scanning:
The security camera is designed to ease monitoring for the team. Through preset points inspection, the camera can be programmed to automatically move, tilt, and zoom in different positions for enhanced coverage. For perfect coverage as well, two-point scanning makes it possible to define two specific points where the camera will scan continuously in between them. This means that the camera covers a large area with precision, making it ideal for covering large spaces or complex environments.
Power-Off Memory Support:
You will never have to worry about sudden power failures. This camera is able to remember its monitoring task until the last second when the power goes off, courtesy of the power-off memory function. Even in unpredictable circumstances, all of your needs are addressed thanks to continuous security surveillance.
Smart Alarms and Person Detection:
This camera has brighter eyes than you think it does. Its alarm features can be set off by any abnormal activity as a notification on your smartphone device. A breach from a designated area or suspicious moving triggers alerts on your phone instantly.
Full-Color Capture:
This camera is able to take its surveillance a notch higher with the full-color capture feature. Many cameras switch to black and white during dark nights, but this one remains in full color all through. It automatically switches to the color mode when it detects someone outside during the night. This allows you to view details in vivid colors, which helps identify people and analyze happenings more effectively.
All these features combined help provide an intelligent security solution that does not act as a recorder only but also helps detect and prevent threats before they occur.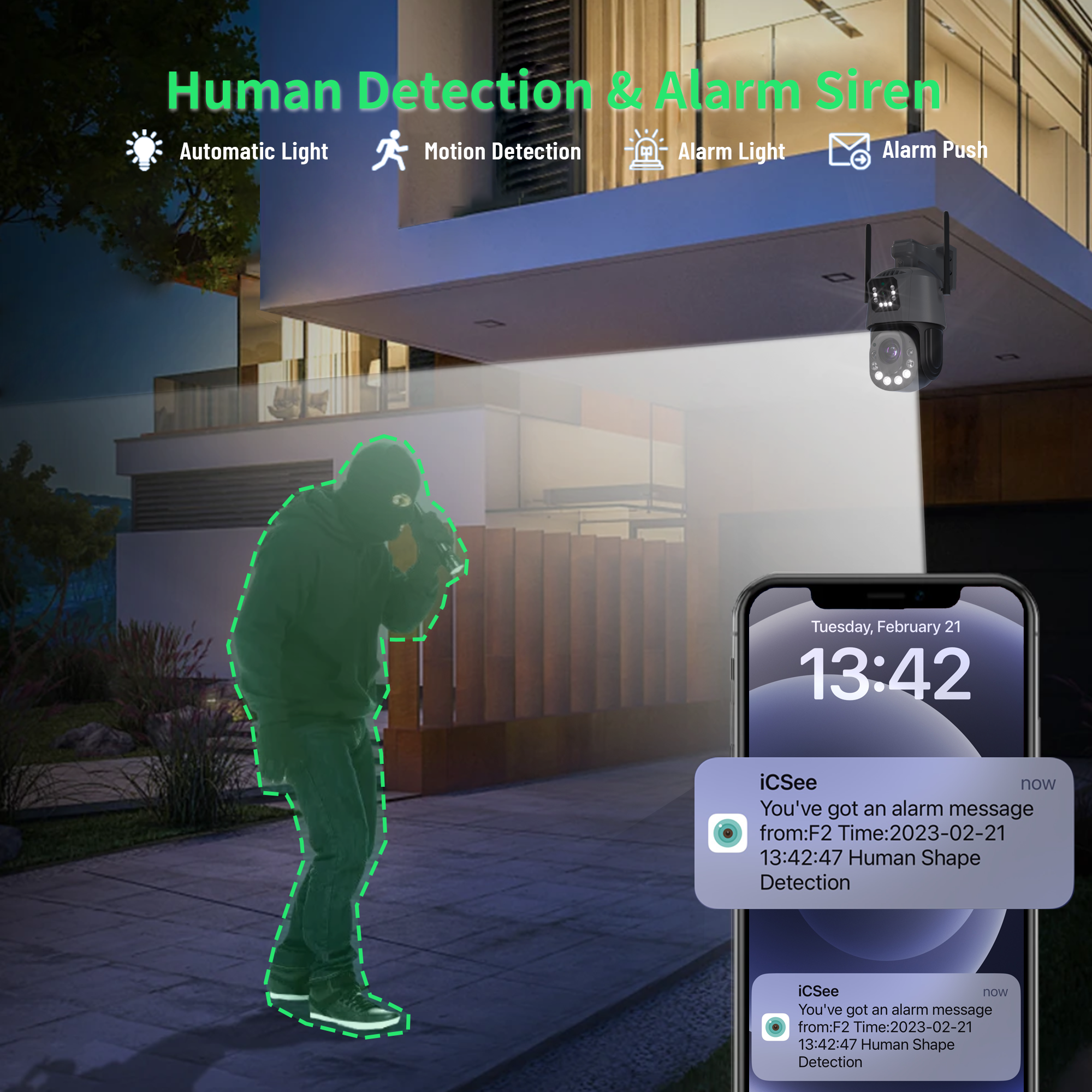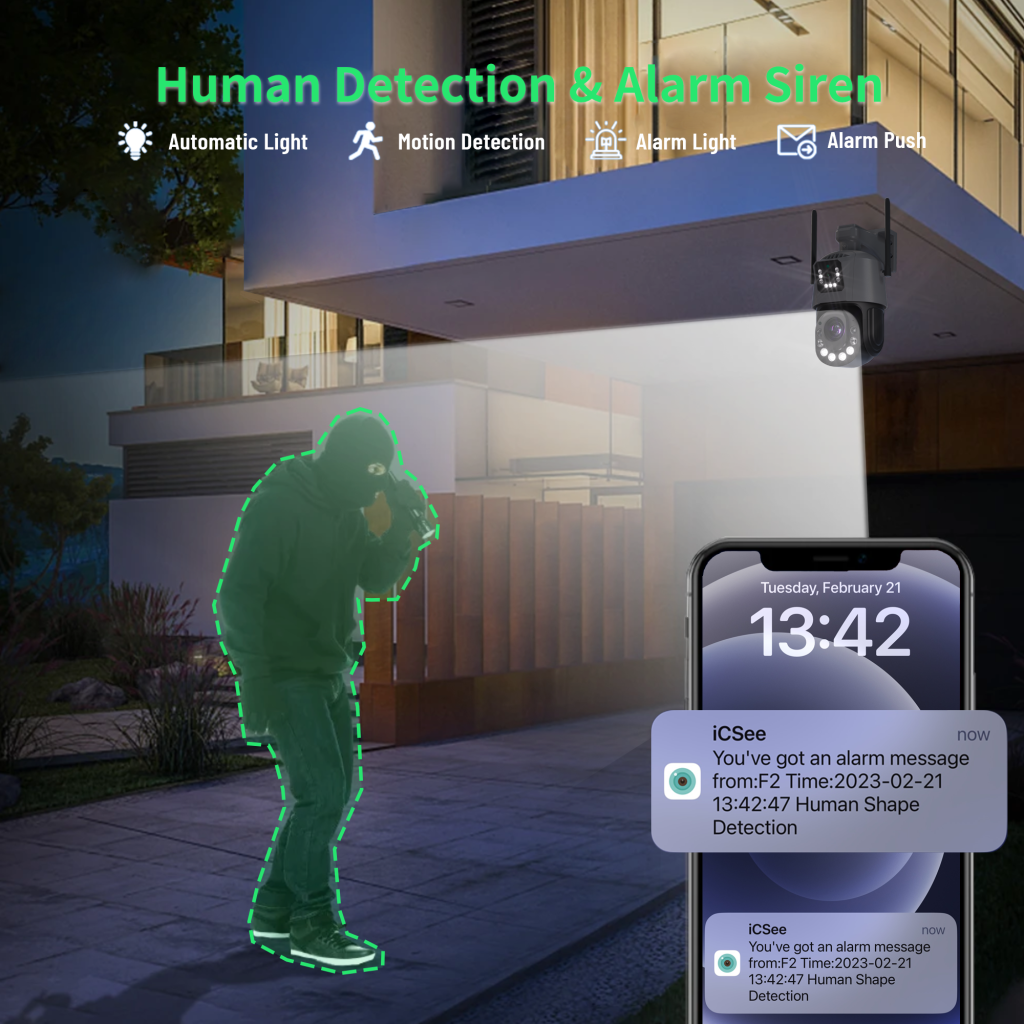 Installation Options and Versatility
IP65 Waterproof Rating: Enclosed with an IP65 waterproof rating, this Bullet and PTZ camera is capable of withstanding hot weather. This rating then greatly makes them dust-proof and able to survive water jets, therefore suitable for application both outdoors and indoors. This ensures that they can be safely mounted on walls thus being assured of credible security either in rain or sunshine.
Support for Indoor and Outdoor Installation: The flexibility in the design of these cameras ensures that they can be used in any kind of setting ranging from indoor to outdoor perimeters.
Working Temperature Range: These cameras are designed to operate at a broad temperature range in order to make sure that they work effectively under different weather and situations. They are meant to render performance without breakdowns even in the most extreme climatic conditions, which can be from scorching sunny days to chiller winter nights.
The Benefits of Using Hybrid Bullet PTZ Cameras
PTZ and hybrid bullet cameras are technological advancements that offer several benefits when incorporated into security solutions.
Enhanced Security and Surveillance: These cameras are one of the best sources when it comes to better security and surveillance. This makes them the best when it comes to security for they can zoom in on areas of interest, follow moving objects, and provide clear detail. They have the ability to cover quite a large area but still focus on the smaller details making sure that nothing goes unnoticed.
Versatility for All Environments: These cameras are of very high versatility regarding all sorts of environments and thus they fit appropriately in any application. Be it the big outdoor areas like a parking space or even the indoor spaces like offices, these cameras adjust perfectly. This versatility is a key advantage, as it enables the use of a single camera type in a variety of settings.
User Friendly: PTZ cameras are user-friendly. They allow simple installation, and remote access and have a user-friendly interface to enable accessibility and easy operation. Users can control and customize their surveillance easily without much technicality.
Compatibility and Integration: These cameras normally have compatibility with industry-standard protocols as well as integration with other security systems. This makes them able to be easily put in an existing security infrastructure to act together for overall better capabilities of managing security. The fact that they work with or together with other devices and systems creates a seamless network of security.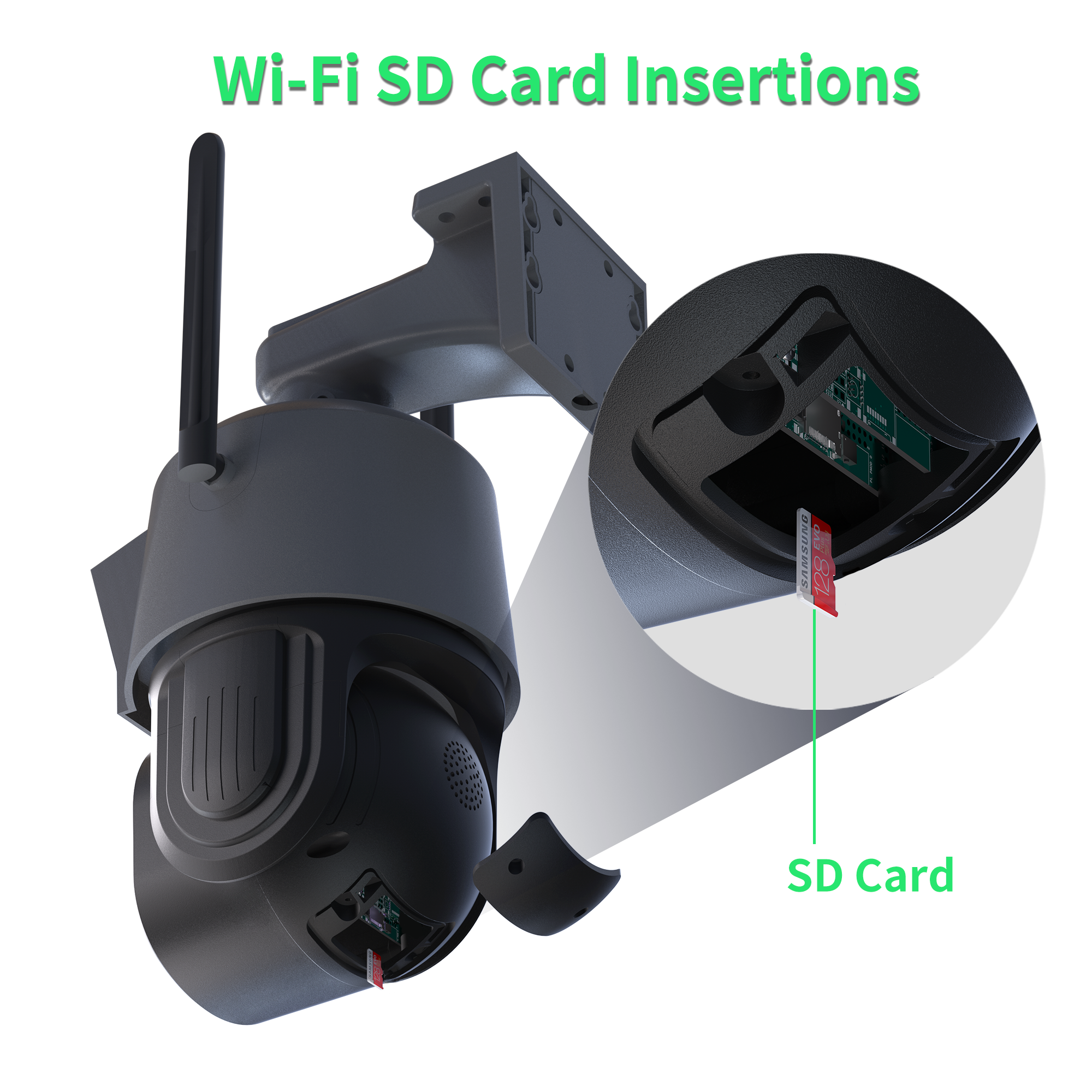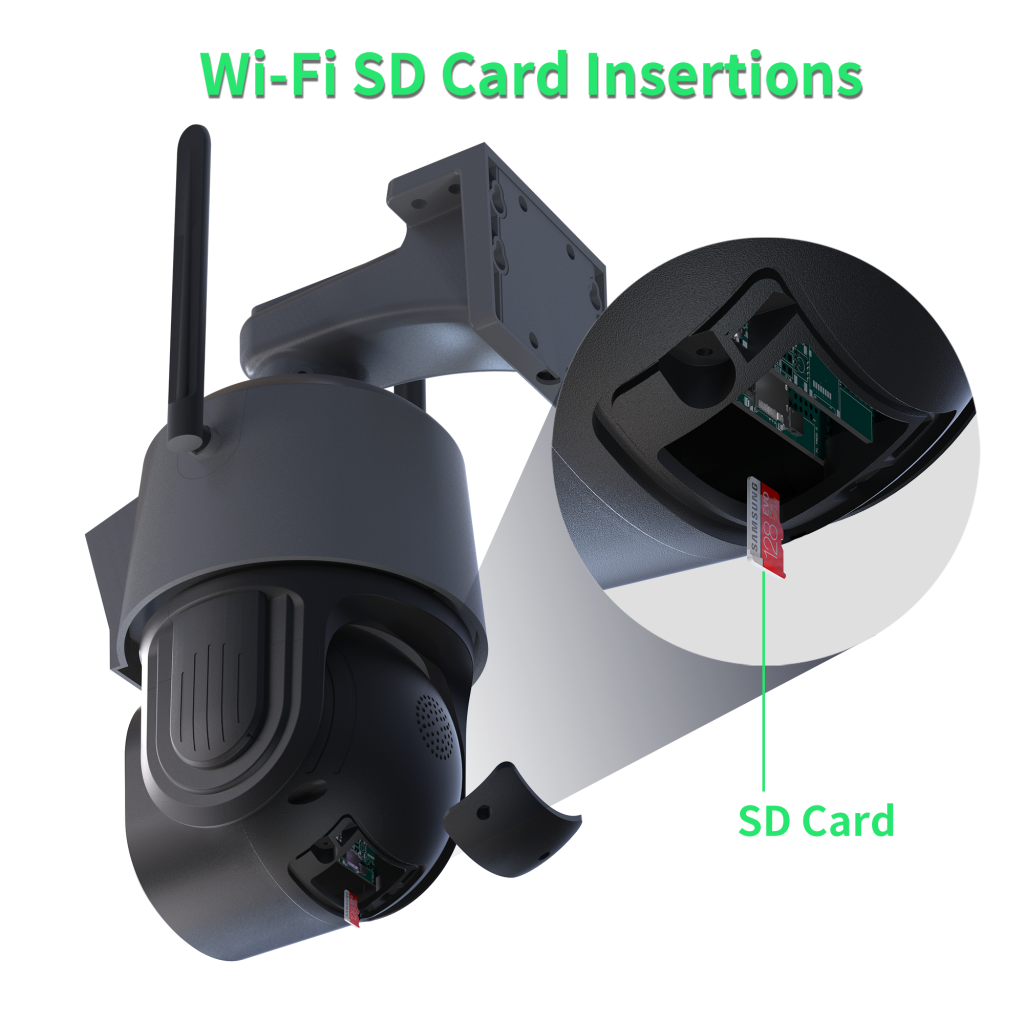 Real-World Applications
A. Home security:
These cameras are quite indispensable to homeowners who are enhancing security in their homes. They constantly keep an eye on the property and thus enable residents to keep a watch on their surroundings, dissuade trespassers, and build up evidence that will stand them in good stead when incidents occur.
B. Business Monitoring:
Be it for a small business or a big one, the business has always needed very good surveillance coverage and advanced cameras to safeguard the property along with assets. These cameras are beneficial for tracking movements and activities that are suspicious in nature over large areas like warehouses, retail stores, or office complexes.
C. Outdoor Surveillance:
Their strong structure and resistance to harsh atmospheric conditions make them appropriate for outdoor surveillance. These are generally used in premises like parking lots, building sites, and industrial installations where constant monitoring under severe atmospheric situations is imperative to maintain the perimeter of the premises.
Final Thoughts
Don't be left behind on this revolutionary security solution. Whether it's your home or business, this Bullet and PTZ camera contains every feature necessary to revolutionize surveillance. Let safety and security be improved indoors and outdoors. Take the first step towards protecting what matters most.